Welcome to our new patient portal.
If you have accessed the new portal before, please click forgot info to retrieve your username or password.
24 hours prior to your next visit:
1.
ACTIVATE YOUR NEW PATIENT PORTAL
Complete registration with most recent email from HFAlerts@nextgen.com - check your spam.
Email valid for 5 days, if invitation expires, complete Patient Portal Request Form If you have an appointment in the next 10 days use the generated username and password e-mailed to you.
2.
CLICK APPOINTMENT CHECK IN (Yellow cube)
Complete ALL medical history forms thoroughly
See the short videos below for important 'How To' information.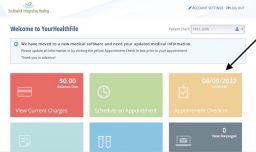 How It Works: Checking In & Patient Forms
How to Access Your Telemed:
Patient Portal Access Request
If you are not already registered, or your invitation email has expired, simply fill out and submit our Patient Portal Access Request Form. When we receive your request, we'll create your account and send you an email with your registration information and link to sign in (check your spam/junkmail). See the short videos below for important 'How To' information.
Registration E-mail will expire 5 days after sent. It comes from HFAlerts or Southwick Integrative Healing, please check your spam/junk mail.